The villagers and school in Nangi are working hard to establish a Cheese Production Factory and the first step is to build a herd of cross-bred Jhopas.
As many of you may already know, at Khopra Lodge Mahabir has established a Yak Farm.  These yaks are primarily  for meat, milk and wool. They also work as pack animals in the higher elevation above snowline.   But the males serve another function which is to mate with a local female cow to produce a cross breed offspring called a Jhopa.  Because one of the parents is a Yak, it allows the cross bred animals to live in Mohare.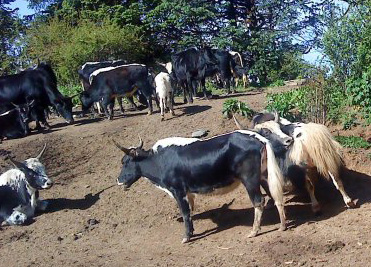 We have breeding program that has been already successfully done. Now we need to increase the herd. Therefore we need more cows. We have attached the photo of some of the Jhopa and yak we have now in Mohare.
After the herd if built up, the next step will be to build more animal sheds and the actual Cheese Factory.  Mohare is in an excellent area, surrounded by uninhabited forest and great grazing.  The animals can go up to the Lodge for milking or birthing but then wander peacefully around the hills.
If you have ever had Yak milk in your tea or coffee you know what a treat locally produced milk and cheese products can be.  If you are interested in this project, the school plans to purchase local cows from Narchyang and they need 15 cows and the total cost is Rs 22500, or Rs.1500 ($22.00) per cow. You can sponsor a cow (or more) by going to HEF site and click on the "Donate Now" button–and make sure you designate your donation for  "Cross Breeding Project" as the project where you want your funds to go to.