By connecting Nangi village in 2002 to the Internet and slowly expanding the wireless network to neighboring villages step by step, now it has been expanded to more than 150 villages in 13 districts of Nepal. Until now HEF has received more than $30,000 through Donate One Dollar a Month Campaign to support the wireless project. Mahabir uses the contribution coming through HEF for the expansion of the wireless network. Currently Nepal Wireless project is providing different services to the people in the rural areas such as e-education, e-medicine, communication, local e-commerce, hotel booking system, credit card transaction system for the tourists through the Internet. In 2010, Nepal Wir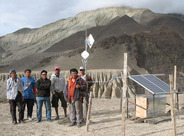 eless connected four districts in the network such as Gulmi, Baglung, Ramechap and Nuwakot. Now it is working to connect Syangja and Tanahun district to the network. We have attached photo of a relay station in Kagbeni Mustang.
We would like to thank to our volunteers and supporters for  donating  your time, money and effort to Nepal Wireless Project. You can support this " One Dollar a Month Program"  by donating money at "Donate Now" and make sure you designate your donation for  "Nepal Wireless Project" as the project where you want your funds to go to.  For more information,  just email Mahabir at mahabir@himanchal.org or Jiwan at jiwan@himanchal.org.